This awe inspiring instance took place when Dadashri was in Los Angeles in America. During those days many seekers were keen to take 'Gnan', but the date of 'Gnan – vidhi' was not getting confirmed due to Dadashri's failing health.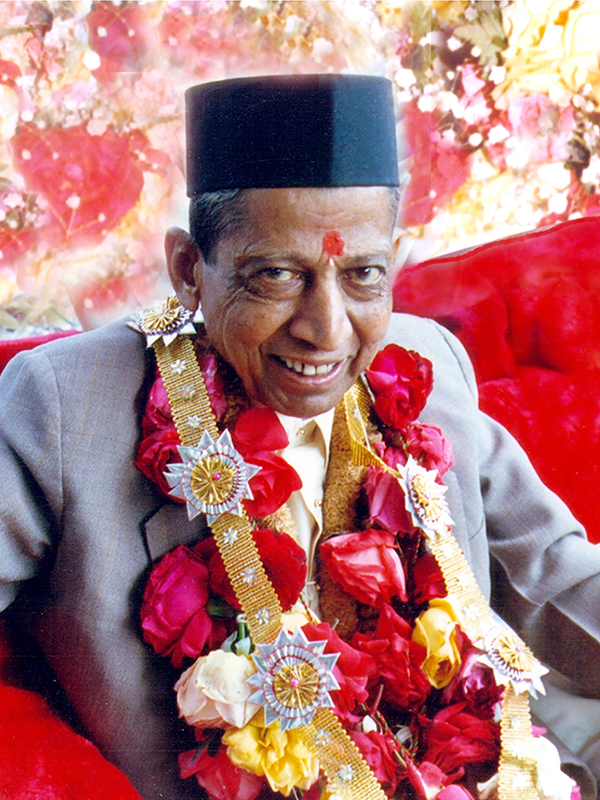 A lady staying about 60 miles away used to frequently travel to seek Dadashri's blessings. During each of her visits she would inquire about the date of 'gnan vidhi' as she was very keen to take 'gnan'. Finally as Dadashri's health improved, she was informed the date of 'Gnan – vidhi'. Feeling elated she got both her and her husband's name enlisted. The couple along with many other seekers took 'gnan' on that day. All these 'mahatmas' were asked to come back the next morning for Dadashri's 'darshan' and 'vidhi' as was the custom in those days.
'Mahatmas' from all over started coming in as early as 6:30 in the morning. Already very frail due to ill –health and the exertion of 'gnan –vidhi' performed the previous evening soon took its toll on Dadashri. Feeling tired, Dadashri suggested taking a break of a few minutes, from 'darshan' as he wanted to lie down and relax. While Dadashri took a break, the lady along with her husband and other 'mahatmas' were asked to wait.
Now it so happened that while relaxing Dadashri fell into deep sleep, which was a rarity and woke up only after an hour and a half. No sooner had the 'darshan' resumed, the lady feeling sad started crying uncontrollably. She approached Dadashri and said, "Dada, I had a tough time convincing my husband to come for 'darshan' and by the time we reached we were informed about your health and were to told that 'darshan' would resume in a few minutes. He waited for all 90 minutes and finally lost his patience. He left just a few minutes back feeling very furious for having to wait so long. I am really worried as to what shall happen to his 'Gnan' as he has not completed the process of 'darshan' and 'vidhi'. As it is he attended the 'gnan – vidhi' very unwillingly and now he has missed this vital follow up too."
To this Dadashri consoled her saying, "Don't worry. Try to convince him and bring him here somehow."
But the lady was confident he would never ever agree to that. So Dadashri asked Niruma to write a note, on His behalf.
'Bhai, please do come again. I have erred. I was taking rest when you had come and could not see you. It was a mistake on my part. Please forgive me. Please come again for darshan.'
Dadashri personally signed it, placed it in an envelope, sealed it and gave it to the lady. Almost fifteen days had passed but there was no response from the gentleman. One fine evening at about 9.30 p.m. the lady suddenly turned up to seek Dadashri's blessings. Dadashri promptly asked, "Why have you come alone? Go and bring your husband!" Hearing this she was shocked. She wondered how Dada had come to know of her husband waiting downstairs in the car! She then replied that he was not willing to come.
Finally Niruma went down and spoke to him, "Whether you believe it or not, Dadashri knows that you are here. He is calling you upstairs. He is waiting for you."
On hearing this, the man immediately got out of the car and went to meet Dadashri.
On seeing him Dadashri said in a very compassionate and concerned tone, "You have come! I was waiting for you since a longtime. It was a grave mistake on my part that you had to wait for long and still could not meet me. Actually I just fell into deep sleep and could not keep track of time. How could this happen in spite of being a 'Gnani'? By all means it was a grave mistake on my part."
The gentleman was completely dumbfounded. He replied, "No no Dada, it is not so. I have not felt bad at all and hold no negative feelings towards you."
Yet Dadashri went on asking for forgiveness with utmost humility and said, "Please put both your hands on my head and say that you forgive me."
Seeing this extremely humble and compassion filled gesture, all those present in the room were filled with emotions and had tears in their eyes. Then Dadashri himself very lovingly took hold of his hands, placed them on his head and requested, "Please say, Dada I forgive you."
With tears rolling down his cheeks the man said, "Dada I forgive you!!" Then he went on to add, "Dada I had never harboured any negative feelings for you, neither have I thought on those lines. Whatever it was was due to my opinions about my wife's attitude."
From that moment onwards he became an ardent and dedicated devotee and started attending 'satsang' regularly.
What an amazing humility and compassion. Dadashri was very much aware of even the slightest lapse. He apologized for his mistakes with ease and equanimity and avoided charging of fresh karmas or claims.