Ignacy Jan Paderewski (1860-1941) was one of the greatest personality in the history of Poland. His multifarious activities as a composer, a pianist, a politician, a prominent statesman and, last but not least, a generous philanthropist, distinguished him from the group of the greatest individuals of the world of culture and politics of the first half of the twentieth century, both in Poland and world-wide.
Born on November 18, 1860, in Poland, Paderewski became a world- renowned concert pianist and, upon Poland achieving independence, was the country's first Prime Minister in 1919. He continued to tour from 1921 into his later years. He died on June 29, 1941.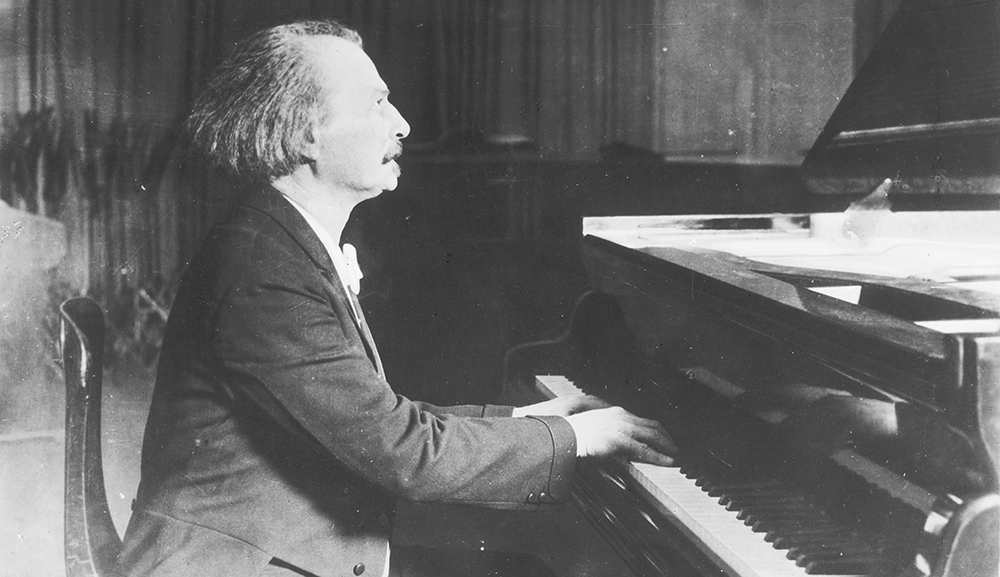 Early years
Paderewski was born in the village of Kurilovka, the Russian Empire. His father, Jan Paderewski, was an administrator of large estates. His mother, Poliksena (née Nowicka), died several months after Paderewski was born, and he was brought up by distant relatives.
Pianist
From his early childhood, Paderewski was interested in music while living at the private estate near Zhytomyr where he moved with his father. However soon after his father's arrest in connection with the January Uprising (1863), he was adopted by his aunt. It was an event Paderewski remembered all his life and he grew up a devoted Polish patriot. After being released, Paderewski's father married again and moved to the town of Sudylkov near Shepetovka.
From a very early age the little boy was drawn to the family's elderly piano as if by a magnet. He kept on hammering on it until his father hired a musician who taught Ignacy to play.
Initially he took piano lessons with a private tutor. At the age of 12, in 1872, he went to Warsaw and was admitted to the Warsaw Conservatorium. After graduating in 1878, he was asked to become tutor of piano classes at his Alma Mater, which he accepted. In 1880 Paderewski married Antonina Korsakówna, and soon afterwards, their first child was born. The following year, they discovered that the son was handicapped; soon afterward, Antonina died. Paderewski decided to devote himself to music, and in 1881 he went to Berlin to study music composition. It was in Vienna that he made his musical debut in 1887. He soon gained great popularity and his subsequent appearances (in Paris in 1889, and in London in 1890) were major successes. His brilliant playing created a furore which reached to almost extravagant lengths of admiration; and his triumphs were repeated in the United States in 1891. His name at once became synonymous with the highest level of piano virtuosity.
He was known for having perfected the touch that could literally make the piano sing. His pedaling was also perfect and his musical renderings, no matter how different, were the fruit of profound and serious study.
Paderewski earned the reputation of one of the best pianists, and his virtuoso career spanned more than fifty years. A top-paid artist, he was coveted by crowds of listeners of the most famous concert halls and his recitals were honored by the presence of Europe's Royalty. Paderewski's concert itineraries took him to the countries of Europe, both Americas, South Africa as well as Australia, New Zealand, and Tasmania.
Popularity breeds financial success, and Paderewski used it for his public activity. He was generous in sharing his resources both with his compatriots and with citizens of other countries. He made donations to Funds and Foundations, and used the money to donate for charities.
Memorable Experience
This is a true story that had happened in 1892 at Stanford University.
An 18-year-old student was struggling to pay his fees. He was an orphan, and not knowing where to turn for money, he came up with a bright idea. A friend and he decided to host a musical concert on campus to raise money for their education.
They reached out to the great pianist Ignacy J. Paderewski. His manager demanded a guaranteed fee of $2000 for the piano recital. A deal was struck and the boys began to work to make the concert a success.
The big day arrived. Paderewski performed at Stanford. But unfortunately, they had not managed to sell enough tickets. The total collection was only $1600. Disappointed, they went to Paderewski and explained their plight. They gave him the entire $1600, plus a cheque for the balance $400. They promised to honor the cheque at the soonest.
"No," said Paderewski. "This is not acceptable." He tore up the cheque, returned the $1600 and told the two boys: "Here's the $1600. Please deduct whatever expenses you have incurred. Keep the money you need for your fees. And just give me whatever is left". The boys were surprised, and thanked him profusely.
It was a small act of kindness. But it clearly marked out Paderewski as a great human being.
Why should he help two people he did not even know? We all come across situations like these in our lives. And most of us only think "If I help them, what would happen to me?" The truly great people think, "If I don't help them, what will happen to them?" They don't do it expecting something in return. They do it because they feel it's the right thing to do.
Paderewski later went on to become the Prime Minister of Poland. He was a great leader, but unfortunately when the World War began, Poland was ravaged. There were more than 1.5 million people starving in his country, and no money to feed them. Paderewski did not know where to turn for help. He reached out to the US Food and Relief Administration for help.
The head there was a man called Herbert Hoover — who later went on to become the US President. Hoover agreed to help and quickly shipped tons of food grains to feed the starving Polish people.
A calamity was averted. Paderewski was relieved. He decided to go across to meet Hoover and personally thank him. When Paderewski began to thank Hoover for his noble gesture, Hoover quickly interjected and said, "You shouldn't be thanking me, Mr. Prime Minister. You may not remember this, but several years ago, you helped two young students go through college in the US. I was one of them."
The world is a wonderful place. What goes around comes around!