Ramakrishna Paramhansa and Swami Vivekanada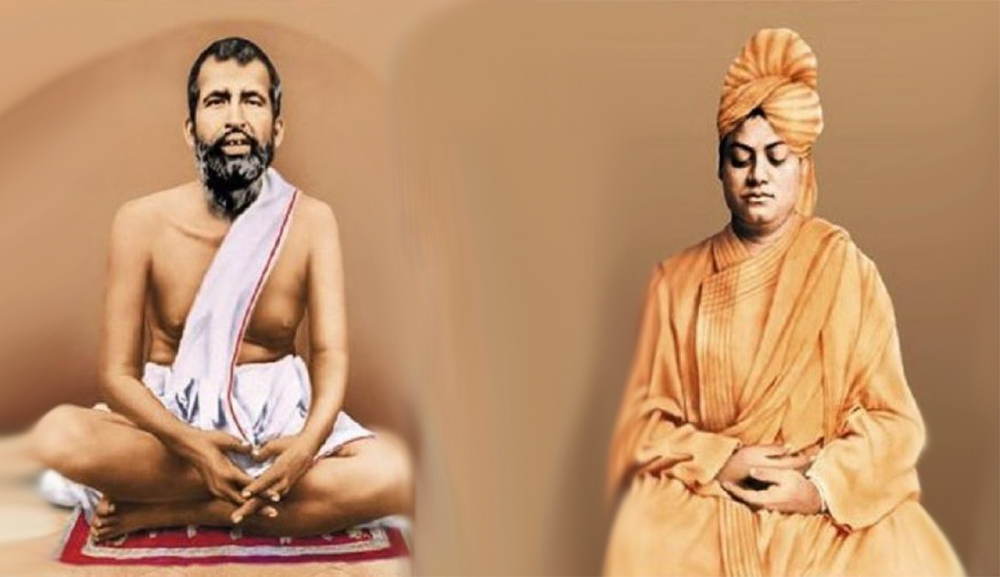 Vivekananda's Ultimate Reverence For His Guru:
Ramakrishna used to take Narendra (Swami Vivekanada) to testing many a times. During one such incident Narendra found he was being ignored by Ramakrishna. When he entered the room, Ramakrishna neither greeted him nor looked at him. This continued for one month. Ramakrishna had thoroughly ignored Narendra and after one month he asked Narendra "I have not exchanged a single word with you all this time and still you come to me?" Narendra replied that he was still coming because he loved Ramakrishna and not because he wanted to get his attention. This proved Narendra's reverence for his Guru, due to which Ramakrishna was very pleased.
Vivekananda's Thoughts For His Guru:
"All that I am, all that the world itself will someday be, is owing to my Master, Shri Ramakrishna, who incarnated and experienced and taught this wonderful unity which underlies everything." He also said "If I have told you one word of truth, it was his and his alone, and if I have told things which were not true, which were not correct, which were not beneficial to the human race, they were all mine, and on me is the responsibility."
Ramakant Achrekar and Sachin Tendulkar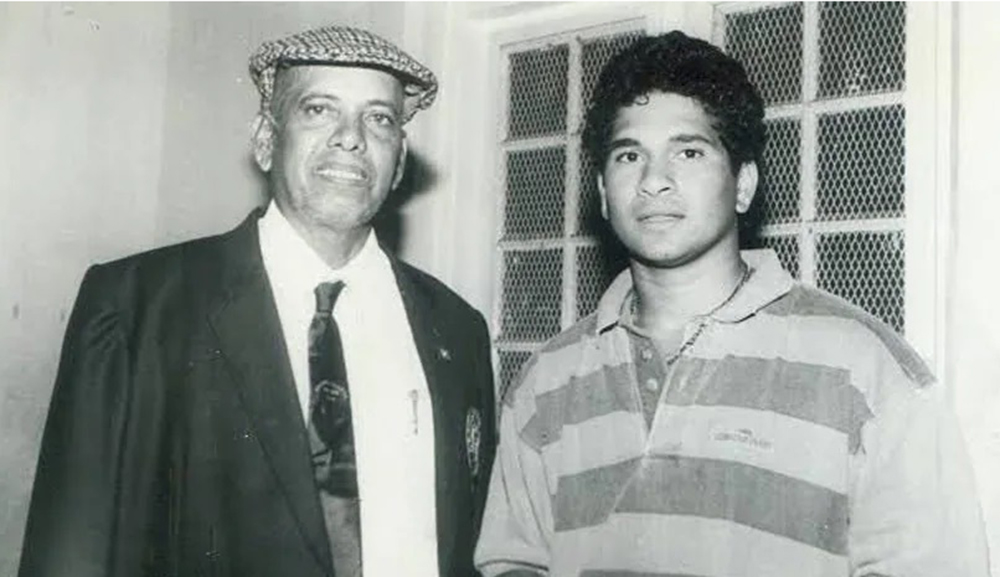 If there's one photograph that Sachin Tendulkar would have loved to display on his wall at home, it would probably be an image of him sitting behind Ramakant Achrekar while the coach rode his scooter (Lambretta) to take him from one match to another in the mid-1980s.
Training by the guru:
Tendulkar is not coy to admit that he was at the receiving end of Achrekar's hand on a few occasions. One notable occasion was when his coach told him to play for a 'B' team of his school. Instead, he preferred sitting in the gallery and cheering his schoolmates. In the evening when he came across Achrekar, he was asked how many runs he had scored. To this Tendulkar replied that he had been clapping and cheering his school team. In response came a slap which shattered his myth. The impact of Achrekar's hand caused Tendulkar to realize what a grave mistake he had committed after which Achrekar firmly told him, "Don't just clap for others; play for yourself and concentrate on your batting. You don't have to be there to cheer for others. Play in such a way that others cheer for you". "That incident changed my life and I began putting in a lot of hours towards practice. If not for that day, I might have been cheering others from the stands; whatever I am today is because of his coaching."
Sachin's proud possessions:
Another brilliant stroke that Achrekar came up with was the idea of putting a rupee coin on top of Sachin's stumps when Sachin got tired having practiced for a long time. Then he offered the coin to all the bowlers of the net. The rule was that anyone who bowled out Sachin would get the coin. However, if nobody could do that, it was Sachin who would pocket the coin. To win the coin, although very tired, Sachin needed to play with lots of concentration in his batting. So from there Sachin formed the base of playing so many long innings. In this way Sachin Tendulkar won thirteen coins which he has treasured till date. Those thirteen coins are worth more than thirteen million dollars as they were embedded on pride and encouragement for a teenager.
Sachin's ultimate compliment:
Batting icon Sachin Tendulkar always yearned for a compliment from his beloved coach Ramakant Achrekar and finally it came on the day when he put an end to his 24-year-old illustrious career. Tendulkar said he received a call from his childhood coach that day congratulating him for the Bharat Ratna award. "Sir till now had never complimented me with - 'well played'. The reason was that Sir didn't want me to get complacent. And I always respected his logic. Whenever we scored a lot of runs, we used to hope that now Sir will tell us well played. But it never happened. Now finally when he said so, I feel elated."