Sri Hanuman, a great disciple of Sri Rama, is a symbol of devotion and dedication. Lord Hanumana is a provider of courage, hope, knowledge, intellect and devotion. Hanuman is in the form of 'Vaanar' (monkey). It will be good to know why the idols of Rudra are always reddish orange. According to a belief, once Goddess Sita was applying Sindoor (vermilion). Out of curiosity, Hanuman asked her the reason behind it. On this, she explained to him that she was doing so for the longevity of her husband's life. She also told Bajrangbali that the more Sindoor she will apply, the longer shall be the life of Lord Rama (her husband). As Hanuman was a great devotee of the Lord, he smeared Sindoor on his entire body to make Rama immortal. This is also one of the reasons why idols of Hanuman or Sankat Mochan are always smeared with Sindoor.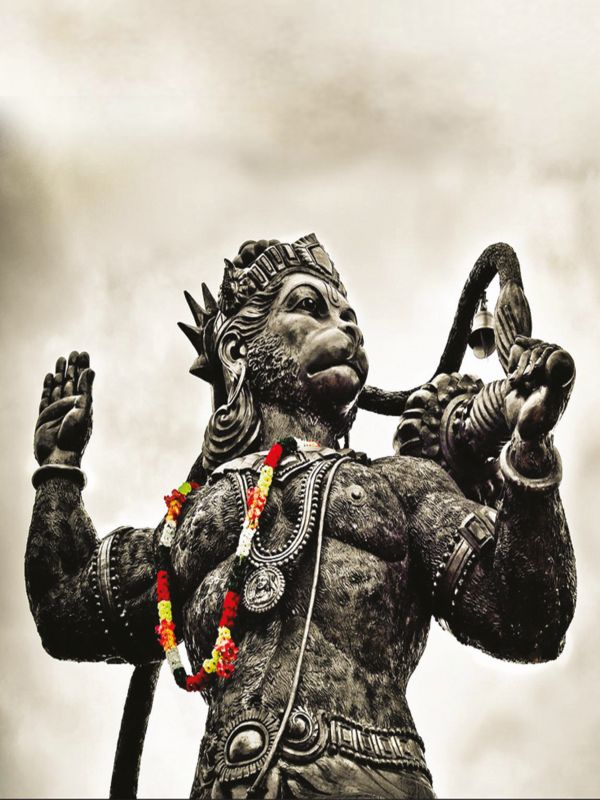 Devotion:
Lord Hanuman is the epitome of devotion and loyalty. His service to Lord Rama is truly incredible. The following instance depicts this virtue of Hanuman in a lucid manner.
Hanuman was a loyal follower of Rama and worshipped him whole heartedly. One day, Sita gave him a precious pearl necklace. Hanuman immediately broke the necklace and started looking at each pearl carefully. He glared at each pearl and threw them away one by one in disgust. Sita was surprised and asked him for an explanation.
Hanuman explained that he was looking for Rama's image in the pearls. Hanuman believed that Rama was present everywhere and was disappointed that he could not find his image in the pearls. He declared that the pearls were just stones and pebbles and thus were worthless. When the people around him asked if Rama was present in Hanuman, Hanuman tore open his chest with his hands and everyone was amazed to see a brilliant image of Rama and Sita engraved in his heart, following this, people accepted that Hanuman was a true devotee of Rama. This is why he is also known as Bhakta Hanuman.
Dedication:
Hanuman had intense love for Lord Rama which can be considered from this particular instance. Once Hanuman was asked by Sri Rama, "How do you identify yourself with me?" Hanuman said: "Oh Lord, while I identify myself with my body, I am Thy servant. When I consider myself an individual soul, I am Thy part. But when I look upon myself as the spirit, I am one with Thee. This is my firm conviction."
Sincerity:
Lord Hanuman's sincerity reflects the power of duty – the power of trust – the power of truth – the power of faith and devotion – the power of loyalty.
Hanuman Chalisa:
Is a poetic composition of the great saint Tulsidas. It is believed that Tulsidas composed Hanuman Chalisa in a state of Samadhi in a kumbh mela in Haridwar. Chalisa means forty and this famous composition has "forty verses" in praise of Lord Hanuman. The acts and deeds of Lord Hanuman are recalled in these verses to aid the devotee to meditate on virtuous and noble qualities.