2nd December is our dear Pujya Niruma's birthday. Generally, we cut a cake and thus celebrate our birthday, with our friends. On Pujya Niruma's birthday, other than cake and good food, the manner of celebrating it was completely unique. In Pujya Dadaji's presence, every December a 10 days shibir at Aurangabad (Niruma's birthplace) was organized for mahatmas.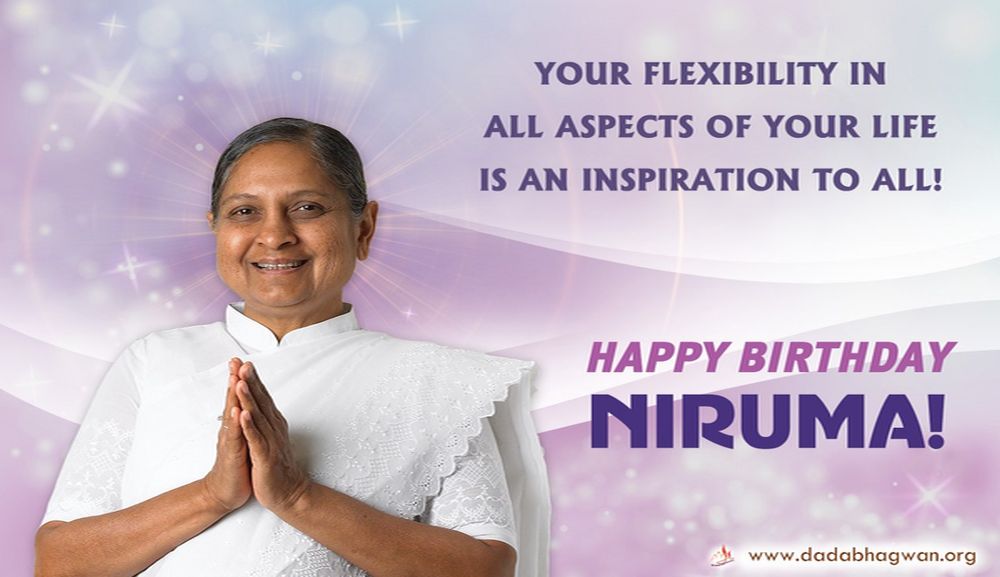 On her birthday Pujya Niruma would take Dadaji's blessings. She would ask Dadaji to give 'Shakti' for 'Jagat kalyan' and for progress in gnan, all within the boundaries of Dadaji's 'aagnya'. Then she would bow down to all mahatmas and even the youngest of her nephews for blessings. And that itself was her greatness.
After Dadaji had passed away, Pujya Niruma would wake up early in the morning on her birthday and pray to Dadaji for lots of 'shakti'. All the mahatmas would get together and celebrate Pujya Niruma's birthday with great happiness and enthusiasm. Niruma would welcome them with flowers and bow down for blessings, saying," Today, all of you heartily give me blessings". Initially the mahatmas would feel very odd and would shy away, because the person on whose toes they touched their foreheads for 'vidhi' and asked for blessings daily, would on that day bow down to them.
No matter who it was, whether the person was a servant or a small child or even Pujya Deepakbhai. On that day, she would bow down to all one by one and take their blessings. Her art of being 'laghutam' was truly amazing. She continued this system till the end. On that day she would give treat to all the mahatmas very lovingly.
We bow down to our dear Pujya Niruma as an embodiment of pure love.