Sach - a nick name, yet the complete truth! Sach is not a mid-summer nights dream; or a fairy tale. Sachin Tendulkar is a flesh and blood icon whose trail blazing footsteps have accorded him the highest stature worldwide. Here is a person who has evoked awe and admiration from legends of various other fields, who before reaching the age of forty has already been labeled a 'living legend'. His exploits on the cricketing field and his modesty and humbleness off the field are unparalleled in the history of cricket or for that matter in any other sport. Reams of paper must have been written on his cricketing exploits so here we shall delve into other facets of this supremely blessed human being.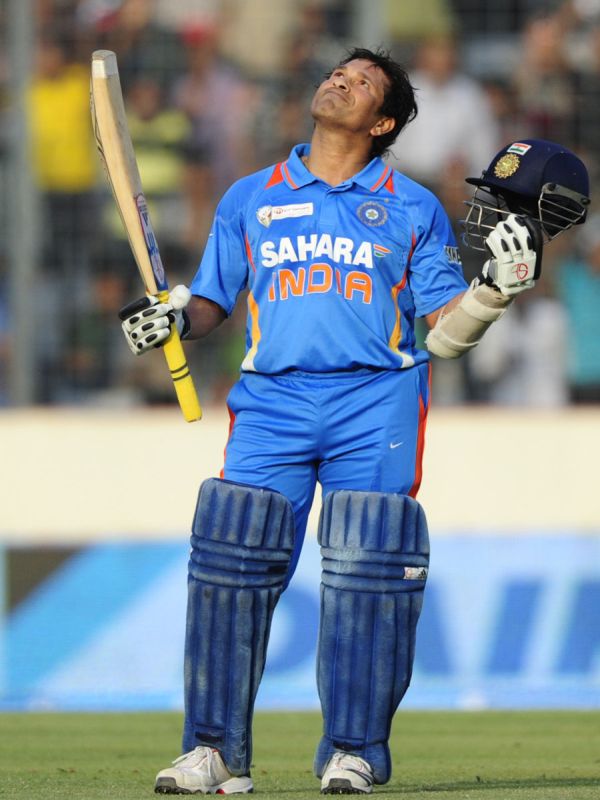 Ajit Tendulkar, named his baby faced brother Sachin after the late music director, Sachin Dev Burman. Called the 'God of Cricket', this young man blessed with immense talent and many other unique virtues always put the nation and the team before self. Born thirty - six years after independence on 24th April'1973, Sachin has strong nationalist feelings and wears a national flag on his helmet. On Independence day, the Tri - color is still hoisted at the Tendulkar household. It would be fair to say that along with the desire to remain the best of the best, it is also a passion with him to bring glory to the nation.
Sachin has never retorted in words to his critics and always let his bat speak for him, this is what he has to say, "when people throw stones at you, you turn them into milestones."
 Although being supremely talented his sincerity and dedication towards the sport has become a part of cricketing folklore. During his long career spanning almost two and a half decades, anyone who has watched him up close would have learned a very important lesson in life - that no one has an Aladdin's Magic Lamp. The only lamp in life are two four - letter words - work hard. Respected both by his peers and opponents, this is what M.S. Dhoni has to say about his dedication, "I often think that if cricket is Ram, then Sachin is Hanuman, Ram's biggest disciple. I will say he is as close to the idea of a perfect man that I have ever seen... "
Star of the millennium, Mr. Amitabh Bachchan has very high regards for Sachin and once said, "I have delayed my shoots many times to watch Sachin bat." Another legend Kapil Dev wants him to stand as tall as 'Mahatma Gandhi', while Viv Richards gives him '10 on lo' and Asha Bhonsle calls him 'God's apna aadmi'. Once while performing in front of a packed auditorium, it was a rare day for Asha Bhonsle who was finding it difficult to find her rhythm, as she had still not recovered from Bombay fever and was physically not fit yet. But after the break, it was a different Asha who faced the audience. She began with a very difficult number and the audience saw a vintage Asha Bhonsle. But what led to this transformation? Explaining it over a cup of tea the next day she said, "I told myself: You need to perform. You need to sing better whatever the constraints are. And then I thought about Sachin. I told myself if he can do it so perfectly on a cricketing field for twenty-two long years, why can't I do the same with my singing!"
Tendulkar remains, by a distance, the most worshipped cricketer in the world. During the Australian tour of India in 1998 Matthew Hayden said "I have seen God. He bats at no. 4 in India in Tests." However, on God, Sachin himself is reported to have said "I am not God of cricket. I make mistakes, God doesn't". This reply coming from the man who is at the pinnacle in his chosen field goes to show his modesty.
Putting Sachin Tendulkar's latest feat in a strictly cricketing context would not be fair to the sportsman. His achievements in the world of cricket need to be seen on a par with efforts in any other field - science, art, literature, etc - to push the frontiers of human excellence'. - these few lines in Pakistani Daily Dawn goes to show the extent of impact this little genius had on one and all. Among many of his unique virtues the immensely gifted Tendulkar also does his bit to repay the society by sponsoring zoo underprivileged children every year through Apnalaya, a Mumbai-based NGO. Just a request from Sachin on Twitter raised 10.25 million (US$170,000) for Crusade against Cancer foundation.
Owner of a cabinet overflowing with trophies and awards, his ultimate reward was when within a few hours of his final match on 16 November 2013, the Prime Minister's Office announced the decision to award him the Bharat Ratna, India's highest civilian award. He is the youngest recipient to date and the first ever sportsperson to receive the award. The ultimate accolade to the man with a 'ton of tons' is when it was said,
"Once God wanted to play cricket, so He created SACHIN."